Inspection and Troubleshooting Live eLearning Course
November 8, 2021

-

November 11, 2021

$2495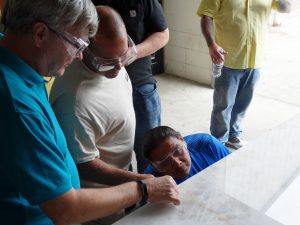 If you are ready to take your professional expertise to the next level, this advanced course about how to use troubleshooting and inspection to diagnose stone failures is a necessity.
This Live eLearning (four, 2-hour days LIVE plus on-demand lessons) course is taught by Frederick M. Hueston, an internationally recognized stone and tile consultant, failure investigator, and expert witness. According to Hueston, "The amount of failures, poor installations and other issues with stone and tile flooring are on the rise. This workshop is perfect for fabricators, restoration and installation contractors, as well as architects, building engineers and maintenance staff who have to deal with stone and tile installation and restoration."
Students will learn about the entire life cycle of stone, from geological formation and quarrying and slab production to fabrication and installation, as well as post-installation problems and solutions like repair, restoration, stain removal, and slip resistance. From understanding the structure of different kinds of stone and materials to physical and chemical testing, and much more, students gain a higher understanding of stone as a renewable surface material. Armed with this knowledge, students can gain the confidence to write reports as subject matter experts and offer expert witness testimony.
Many restoration and installation contractors, architects, building engineers, maintenance staff, and other professionals who deal with stone and tile installation and restoration have benefitted both professionally and financially from this comprehensive course.
Course Content
The Geology of Stone
Understanding the structure of different kinds of stone and materials
Identification of stone and tile types
Quarry techniques that affect the final product
Production of tile and slabs
Fabrication and installation requirements
Physical and chemical testing
Stone and tile forensic investigation
Diagnosis of problems
Stone and tile restoration
Repair and replacement
Stain removal
Troubleshooting
Report writing, including sample reports
Expert witness testimony
Slip resistance
Laboratory testing
Course test
LinkedIn Certification
Ask questions in the discussion group