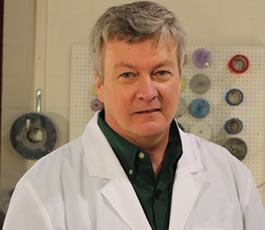 Fred Hueston
Chief Technical Director
Fred, aka "Dr. Fred" is known worldwide and is regarded as the foremost expert on natural stone, tile and other surfaces. He is our Chief Technical Director, where he provides a wealth of support to our PRO Partners on the Partner Discussion Group. He answers consumer questions via our Knowledge Base and YouTube channel. Fred also teaches many courses through the Surphaces Learning Institute. He is the creator of breakthrough products with the Dr. Fred's Innovative Solutions label that address surface care concerns for both professionals and consumers.
Fred is a nationally known consultant and the founder of Stone Forensics. He earned a Bachelor of Science degree in Chemical and Physical Science (Limnology) (University of Central Florida 1981). He is a certified master stone craftsman and Architectural Conservator, a member of ASTM (American Society for Testing Materials) C-18 committee. He is a Technical Editor for Stone World Magazine and instructor for Certified Marble and Stone Inspectors via IICRC and has appeared on several television shows including The Discovery Channel, HGTV and several local talk shows. Fred frequently presents seminars and presentations for stone, tile and historical associations. He has published over 100 articles on stone installation, care & restoration in both the United States and international publications and journals.
Author of over 30 books on stone and tile and has produced multiple digital training programs
Writes a syndicated newspaper column "Around the House" for several papers across the US
Has served as technical advisor, consultant & expert witness for numerous projects across the US, Canada, Asia and Europe
Is currently the only individual who is recognized by the IICRC to train other stone inspectors
Has served as technical advisor, specification writer and problem solver for the following:

US Government-Office of the Architect of the Capitol, Washington, D.C.
Federal Court of Appeals, San Francisco, CA
Ohio State Capitol and Senate Buildings
Laticrete International
Walt Disney World Company, Orlando, Florida
Los Angles County Library
Kennedy Space Center, "Space Mirror"
Dozens of architect, engineering, law, government and private industry firms
Fred is married to Jeri and when he is not solving stone, tile and surface care issues he loves to play piano, raise sea horses and keeps several marine aquariums.
---
If you need services such as consulting, inspection and troubleshooting, or expert witness from Fred directly, you can reach him at FHueston@stoneforensics.com